Alan Schoenbaum is the General Counsel of Rackspace.
We've said it before: it will take an army to battle patent trolls and inspire true patent reform.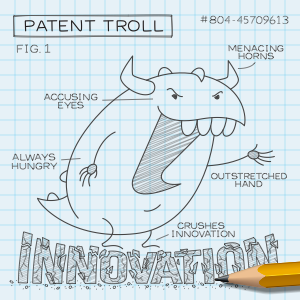 And last week, our allies at the Electronic Frontier Foundation (EFF) brought the fight to the masses with the launch of Trolling Effects, a resource for businesses and others who have been targeted by patent trolls. Trolling Effects is a user friendly website with a number of important features. It lets users anonymously submit and search demand letters they've received from purported patent trolls; study them; learn ways to encourage Congress to fix the nation's broken patent system; and, most importantly, it teaches users how to win.
"In the midst of a tidal wave of momentum in the fight against patent trolls, we're proud to launch Trolling Effects (trollingeffects.org), a resource to empower would-be victims of patent trolls through a crowd-sourced database of patent demand letters and a clearinghouse for information on the troll epidemic," wrote the EFF's Adi Kamdar and Julie Samuels in a blog post introducing Trolling Effects. "The site allows demand letter recipients to post the documents online, find letters received by others, and research who is really behind such threats. The site also features comprehensive guides to the patent system and a blueprint for patent reform."
A site like Trolling Effects is a major weapon in this fight. If it's true that knowledge is power, then Trolling Effects is empowering everyone to change a broken system and expose the problem patent trolls pose to innovation and the US economy.
At Rackspace, we're no stranger to this issue. It is our most pressing, and most expensive, legal challenge. A number of industry associations and organizations are also rallying around the cause. This fight needs outspoken advocates – and Trolling Effects will unleash a crowd-sourced battle cry to show we're not going to take it anymore.
Trolling Effects will be a useful tool to spotlight this issue and expose the thinly veiled extortion attempts disguised as "invitations to license" which businesses and individuals receive from patent trolls every day. Typically, a patent troll sends a demand letter hoping for a swift financial settlement – knowing full well that most companies don't have the cash to fight. What Trolling Effects wants to do is add some transparency to this process.
"A combination of trolls who send demand letters but rarely sue, scheming businesses that transfer patent ownership to shell companies, and poor record-keeping infrastructure and practices has resulted in a hazy patent system where the lack of transparency has become a competitive tool," Kamdar and Samuels wrote. "We've created a simple tool that will take away one of the patent trolls favorite tools — secrecy."
Trolling Effects seeks to gather information that is often kept secret and put it to use to inform the victims of patent troll threats and collect data for journalists, academics, policy makers and others to help them understand the scope of this problem.
I encourage anyone impacted by patent trolls to check out Trolling Effects. And if you've received a demand letter, submit it to the site. Trolling Effects adds a new and valuable resource for people to manage this pressing problem and gives us all a platform upon which we can work together to stop patent trolls dead in their tracks and inspire Congress to take up and pass real patent reform.